3 Tricks to Make Starting the School Year Easier
Summer is coming to a quick end and starting the school year is just around the corner. For all the new parents who are going to drop their child off at their first day of kindergarten, please do not worry! The transition from preschool to the big-kid kindergarten classroom is not nearly as difficult as movies or mommy blogs make it seem. It can be a smooth and memorable event if basic rules, and a reasonable amount of responsibility is taught beforehand. 
Visit Our Website Today For A Free Printable Rainforest Workbook!
To help your child get prepared for the start of the school year, we have organized some tasks to nail down before the big day.
Implement Structure
Before they start the school year, a great way to ensure your child is listening and acting independently from other peers is to structure their home environment. At the age of two or three, implementing a nighttime routine and a consistent bedtime will teach children structure and responsibility. A routine with

storytelling and reading

is the mosteffective way to ensure back to school readiness. A bedtime also helps their bodies adjust to a sleeping schedule and will alleviate excessive tiredness in the mornings! Consistent structure at home will make for an independent and good listener in the classroom.
Art and Craft Activities
In kinder, they will participate in many arts and crafts activities. Whether it's using scissors, gluing, or painting, your child will need to know how to use these materials. Before they begin school, it's important that you implement arts and crafts activities in their days. This fun task will help them be more independent and creative in the classroom. 

If you're looking for

fun activities for your child

, our iKnowABC program contains hours of offline and online activities, worksheets, and more. While the software is built to help your child learn to read, it also consists of fun and unique activities such as animal yoga poses to keep them entertained and engaged!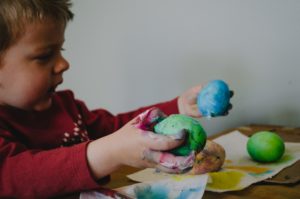 Teach the Basics
Starting the school year calls for a lot of responsibility. To ensure your little one is prepared, start by having them practice their daily tasks independently. For example, getting dressed. Though it may be quicker and easier to walk them through this in the early morning, it will teach them independence. Another trick is teaching them how to follow a check-list. When they arrive at school they will typically have a number of items such as a backpack, lunch box, jacket, etc. Teaching them to run through a check-list will advance their memorization skills and implement a level of responsibility. 

Have them practice memorization leading up to the start of the school year. Memorizing skills such as writing their name, counting numbers 1-10, working on letters from the alphabet, and learning basic animals will prepare them for in-class activities and conversations with his or her classmates.

Every class has one or two mischievous kiddos who will not follow directions for a whole bag of lollipops! To ensure that kid is not

yours,

start teaching them words and phrases like "stop" or "clean up your mess" early on. These skills will benefit the child beyond the kindergarten environment too. 
Not every item on this list needs to be perfected to ensure a smooth transition into kindergarten. Remember, over the course of one year in kinder, your child will grow tremendously as a student, classmate, and individual. You will see them develop more reading and writing skills, become more conversational, and most importantly become less reliant on you while becoming more confident in themselves! 
If you are interested in learning more about apps to teach your child the alphabet, click here and read our next blog!
For full access to our iKnowABC Desktop Adventure visit our parent page at https://www.iknowabc.com/parents/
Follow Us on Social Media: