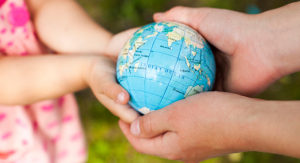 As a child, it's often difficult to think of yourself as just one part of something that's so much bigger. Children don't realize that there are nearly 1.9 billion people out there that are just like them. Some live right down the street, while others live halfway across the globe. You may have a globe at home for your children, but they might not fully appreciate what it represents… yet!
Teaching global citizenship to your children is one of the best things you can do to further their development from a young age. It teaches our children that despite other kids looking or dressing differently than they do, they are all equal members of a larger, global family.
Here are four ways that you can teach global citizenship to children right at home.
Teach Through Television
With efforts in schools increasing on a daily basis, there's been a very positive trend toward providing children with global citizenship at an early age. Schools are introducing second languages to their students as early as 6 years old, and more "worldly" characters (such as Dora the Explorer) have been teaching both global citizenship and basic Spanish language skills to our young learners for nearly 15 years.
Don't Forget Where You Came From.
Teach your children to be proud of their heritage. With the United States being one of the biggest melting pots of culture, today's children have an incredibly diverse grouping of heritage to "Take Pride" in. Show your children pictures, books and videos that showcase what your heritage represents. Sing songs or tell stories that are traditional to your respective heritage, as children begin to develop cultural intelligence from an early age.
A Global Appetite
What child doesn't want to try fun, new foods? Take one night out of the week to try out an international cuisine. Instead of just serving the food, take the time to educate your children about the culture surrounding the food on their plate. Pair some delicious Pad Thai with a side of common facts about Thailand. I've also heard that falafel is best served with trivia about the Middle Eastern countries. Teaching global citizenship through the belly is just as important as teaching it through the brain!
Game Night!
Teach global citizenship through game night! Have your children check the tags of the shirt they're wearing. What country is it from? Have them locate it on a globe or map. Does their favorite toy indicate where it came from? Time it and allow them to remember what part of the world that each came from. Perhaps turn your household items into a bingo game for global citizenship? The possibilities are absolutely endless.
Teaching global citizenship to children has never been easier to do. At Take Pride Learning, we strive to educate children as part of one global community. Learn more about what we do and to explore a new world of learning for your children.