According to a 2013 PBS Learning study, the usage of technology in the classroom is at a higher level than ever before. Teachers from Pre-K through Grade 12 were polled in a natural survey that inquired about technology practices in their respective classrooms.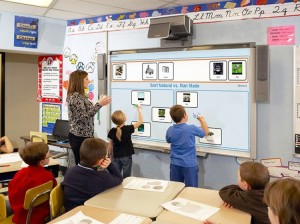 The survey honed in on a few specific areas, namely: How teachers are utilizing technology in America's classrooms, the types of technology teachers have access to, and their attitudes toward technology. The results show very encouraging numbers that are summarized below.
Three-quarters of all surveyed teachers stated the following:
Technology enables them to reinforce and expand on content
Technology motivates students to learn
Technology motivates students to respond to a variety of learning styles
In addition, 69% of surveyed teachers said that educational technology allows them to "do much more than ever before" for their students.
"Teachers today need access to high-quality digital content to keep pace with school's investment in interactive whiteboards, tablets, and other devices to maximize the educational benefits of technology in classrooms," said Alicia Levi of PBS Education.
While these numbers are encouraging, it should be noted that 10% of surveyed teachers are still reporting that they do not have access to any sort of technology (including a basic desktop computer) in their classroom.
This study is an encouraging sign that technology has finally found a permanent home in our classrooms. With a seemingly endless amount of programs providing technology in the classroom, our young students have never had a better variety of ways to learn. 21st century learning is something deeply rooted in classroom technology, and Take Pride Learning is at the forefront of this movement.
Founder Cindy Coleman has spent two decades creating curriculum that introduces modern technology to classrooms across the globe. Discover all the ways in which Take Pride Learning implements technology in educational settings.