With Fall in full swing, the colors of the season are everywhere we look. Vibrant reds, majestic yellows, rustic browns, and the oranges that adorn everyone's favorite pumpkins. The traditional autumnal hues are quite easy on the eyes, but what if you're looking for something that's a bit different? Jade Harrington of iLovetoCreate.com came up with this eye-popping Halloween activity that your little ones will absolute love creating. Scroll down further to learn how to make your own glow in the dark pumpkins for a truly colorful Halloween!
Materials:
Pumpkins (plastic or real)
Tulip ® Glow in the Dark Fabric Paint (available at most craft stores)
Black Lights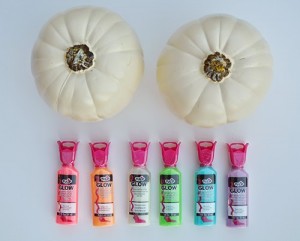 First things first, you'll need to purchase your pumpkins! Harrington prefers plastic pumpkins from your local craft or activity shop, as they last significantly longer. However, you can use real pumpkins just as easily. Either way you go, pumpkins with any sort of grooving in them may be easier for you guys to  work with.
Once you select the perfect pumpkin to bring to life, you're almost ready to begin your (soon to be) new favorite Halloween activity. Harrington suggests using Tulip ® Glow in the Dark Fabric Paint for your pumpkins, as it really comes to life underneath a black light.
Make sure to set some newspapers below your pumpkins, as this has a chance to get a bit messy! After selecting your favorite colors to use, it's time to have some fun! Anything goes when designing these Halloween canvases – funny faces, abstract designs, squiggly lines; your little ones have an infinite amount of possibilities for creating their works of art.
After the paint dries onto the pumpkin, pull out those black lights and watch the faces of your children light up even brighter than their new creations! The best part about this Halloween activity is that the possibilities are absolutely endless for you and your children. Brighten up your Halloween with this quick and fun activity tonight!
Take Pride Learning®  believes that fun, engaging activities are a great way to inspire greatness from your child. Learn more about Take Pride Learning.