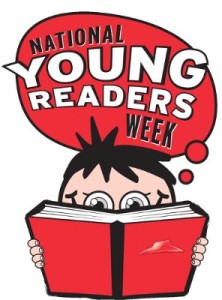 As we head closer to the holiday season, we'd like to tell you about an entirely different reason to give thanks – for the gift of reading! November is the month that hosts National Young Readers Week, a special time for parent and child alike. Here at Take Pride Learning, we're up around the clock to celebrate National Young Readers Week! If this is the first time that you're learning about (one of) our favorite weeks of the year, read below for all the information you need to need to start celebrating!
What is National Young Readers Week?
National Young Readers Week is an annual event that was co-founded in 1989 by Pizza Hut® and the Center for the Book in the Library of Congress. To make this week special, many schools recruit local "celebrities" to read aloud a favorite children's book to classrooms.
Why is National Young Readers Week important?
Children learn to enjoy reading by example. When they see adults whom they admire and look up to reading, your students will be more likely to read for enjoyment as well. Meeting people from many different fields helps to reinforce the fact that reading plays an important role in any career a person chooses.
Who are the celebrities that get recruited?
Celebrities include local officials, sports figures, public safety officers, parents and other guests from your local community. Anyone who is of any sort of influence in your area would be a great choice to be a celebrity for your reading session.
What can I do to promote this event?
Get students, parents, and fellow teachers excited about the upcoming week of celebrity reader visits by including it in the school newsletter and sending home the National Young Readers Week Bookmarks found at www.pizzahut.com/bookit.
As mentioned before, we couldn't possibly be any more excited for this event. Our iKnow Animals, Letters & Sounds series is a perfect choice for "celebrities" to read to your children. Don't forget to start celebrating tonight!